I always recomend drilling a pilot hole before driving a screw into wood.  Failing to do so could cause the wood to split.  To drill a pilot hole, use a bit that is slightly smaller than the screw.  If the bit is too big, the screw will not hold and strip out over time.  If the bit is too small, you still risk the chance of the wood splitting.  So make sure you use the correct size bit.
Another reason to drill a pilot hole is to insure proper depth.  Say, if you need to put a hinge on a cabinet door that is 1/2-inch thick and the screws to hold the hinge are 1/2-inch long.  You could take a chance and use the principles of guesstimation, but we all know how that ends.  Drill too far and you put a hole through the cabinet door.  Drill too shallow and the wood might split.  Either ending will leave a blemish that your better-half will not be happy with.  I recommend taking the guess work out by watching the below video where I demonstrate a simple trick on how to drill a pilot hole to an exact depth.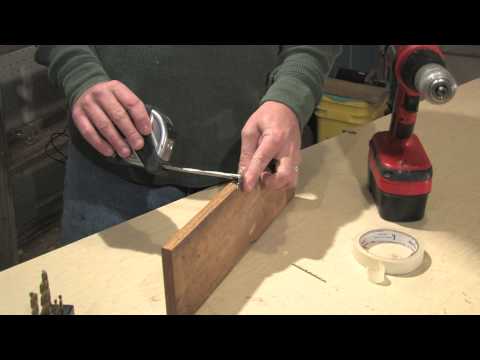 Warren Seegers is the producer of the home improvement TV reality show The Edifice Venture. He was also a finalist on DIY Network's Stud Finder 2009.