Hello again from sunny Winter Haven! I arrived this afternoon and I can't wait to get back to work on this gorgeous, lakeside bungalow. I've spent my first few hours digging into all of the final touches that you, yourselves, chose over the past few months.
Photo: Williams-Sonoma.com
One decision you had to make caught my eye right away: outdoor dishware. You fine folks voted to stock the Blog Cabin with blue melamine dishes instead of yellow. These unbreakable, affordable dishes were at their height of popularity in the 1950s and 1960s, and have recently seen a resurgence. Modern day melamine sets, like those dishes pictured above, are readily available in a wide variety of styles and colors.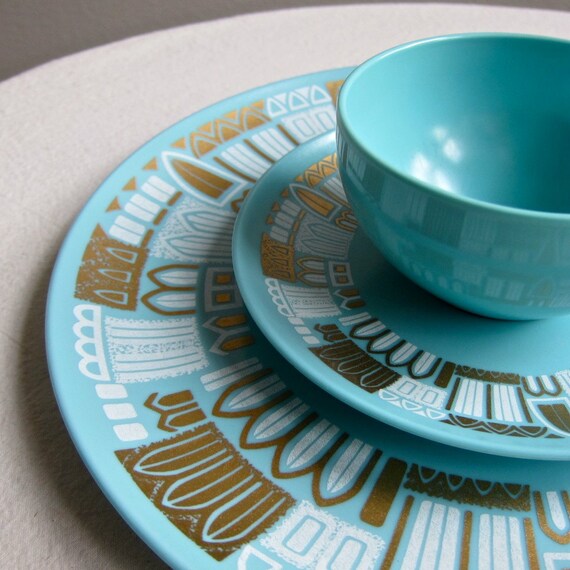 Photo: Barking Sands Vintage @ Etsy.com
These dishes were first created to be used by the US Navy during World War II. Inexpensive and indestructible, they were an excellent option for sailors eating on the high seas. Eventually the trend caught on in restaurants and in homes, the two biggest manufacturers being Melmac and Bootonware.  These days gorgeous, vintage melamine dishes are big collectors' items.
Photo: Zak.com
These dishes are put to great use when dining outdoors, with children or on the go. After being overshadowed by disposable plates in this 1970s and 1980s, new environmental concerns have made them popular again. Reusable, practical and pretty – melamine might be a great option for your summer dinner parties this year. I know the Blog Cabin 2014 winner will enjoy several meals outside while looking at that beautiful lake – and now they don't have to worry about dropping their plate in awe when they see the view
Photo: WestElm.com
It's important to note that – vintage or brand new – unless these dishes are clearly marked "dishwasher and microwave safe," you should hand wash them with a non-scouring solution and you should not use them to heat food. Other than that – you just need to stack, pack and head outside to dine!
Do you have memories of your childhood melamine dishware? Or are you using some of the newer styles now?